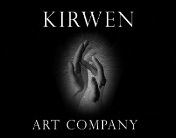 Studio ... Gallery ... Community ...
The Kirwen Art Company, inc. has evolved into the KirwenArtWorks, an elegant and fun mix of highly creative folks – sculptors, painters, ceramicists, photographers, handy men, art lovers, and our very own sales flirt – all of whom orbiting around the studio and gallery housed in a late 19th century German Episcopal Church located on the picturesque Portage river in quaint Elmore, Ohio. The Gallery features high ceilings, open display space, great acoustics and a relaxed environment.
The Kirwen Art Gallery strives to promote outstanding art work by emerging, mid-career, and professional artist, through peer review and juried selection. Open to the public, Art shows are held throughout the year, complete with music and libations at its very own Impromptu Pub. The Gallery is open whenever the door is unlocked, which is nearly all the time!
The Studio and Gallery is a place of refuge for artist and laymen alike, with membership services available to those who wish to practice and improve their craft on-site, share camaraderie with other artist or like minded creative folks, as well as gain constructive insight and education, classes, lectures, and group and solo shows available.
Anyone interested in joining the KirwenArtWorks family should contact Maureen at (419) 250-0921 or John at (419) 250-1025.